Transforming E-commerce Packaging
Delivering on Circularity in Singapore
Why is E-Commerce Packaging Waste an Issue?
Singapore has a rapidly growing e-commerce market, with fashion, electronics, and groceries ranking as the largest sectors. 
Close to 200,000 packages are shipped in Singapore daily, which ultimately results in significant single-use waste from e-commerce. The COVID-19 pandemic has also contributed to a massive jump in e-commerce transactions from 5.9% to 11.7%. This means that people were shopping online more often, contributing to more e-commerce packaging waste. 
Packaging waste alone contributes to one-third of the household waste generated. It is estimated that 2-3% of this packaging waste comes from e-commerce, a figure that could double by 2025. With overall plastic recycling rates at 4%, most of this e-commerce packaging will end up in our landfills. 
But what if we could reuse the packaging and therefore, reduce the amount of waste generated in the first place?
Is Switching to Reusable Packaging Possible?
E-commerce retailers have a big opportunity to switch to reusable packaging. This is made easy by Singapore's relatively well-developed last-mile logistics network and Pick-Up & Drop-Off (PUDO) points.
Businesses can partner with service providers, logistics companies, and most importantly, the customers by encouraging them to drop off the packaging at convenient PUDO points where it can be returned to the retailers through Singapore's extensive postal and delivery network.
What Does The Research Say?
Published in November 2021, Delivering On Circularity – Feasibility Study For Reusable E-Commerce Packaging In Singapore outlines the feasibility of implementing reusable business-to-consumer (B2C) e-commerce packaging in Singapore.
This report provides Singapore's e-commerce retailers an insight into opportunities and strategies to switch to reusable packaging by tapping on existing logistics networks, ensuring a frictionless returning mechanism for their customers and, engaging relevant stakeholders in the process to establish a circular system. Case studies from reusable packaging companies have also been added.
In summary, to maximise the success of a company's reusable packaging initiative, 4 important factors must be met: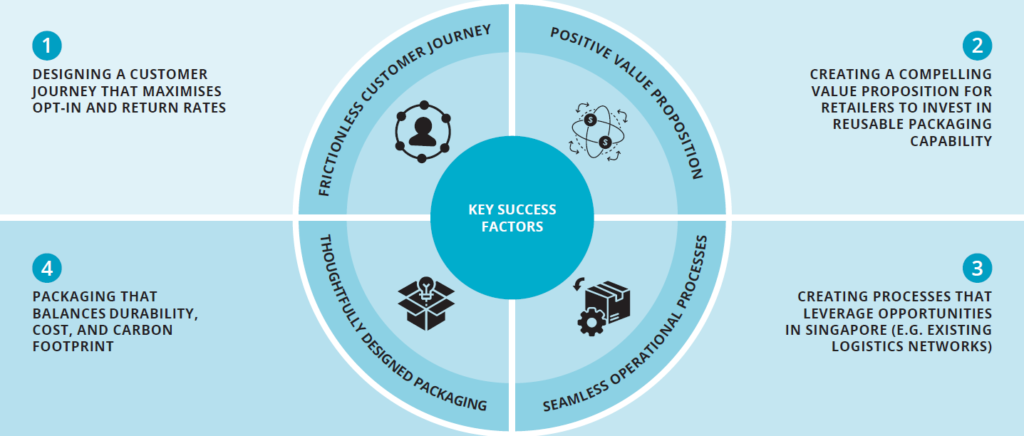 Making Circular Delivery a Reality
To show the scalability of reusable packaging in Singapore, WWF-Singapore implemented a pilot with industry partners in the e-commerce sector.
The 6-month pilot lasted from April to September 2022. 12 retailers participated in the initiative, which allowed customers to choose reusable packaging for their online orders. The participating retailers were:
During the pilot, data was collected to understand consumer sentiment, operational feasibility and scalability of the reusable packaging concept in Singapore. This is an overview of the pilot's key findings, more information can be found in the full report.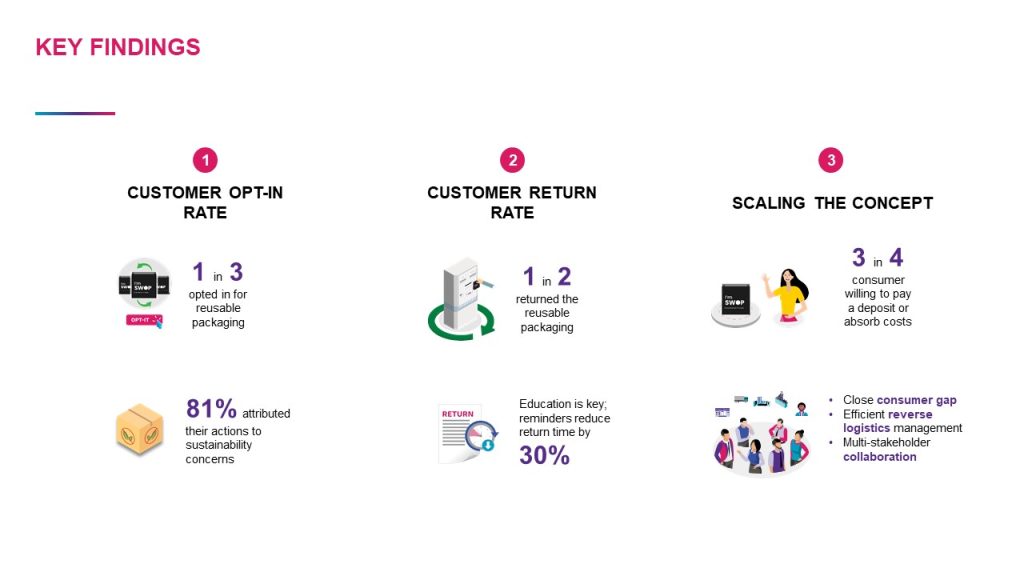 Our pilot trial would not have been possible without the generous support of the following partners:
Delivering on Circularity Event
This event was co-organised with the Textile and Fashion Federation (TaFF) in November 2021 to launch the report and saw over 50 participants.
The speakers shared insights from the e-commerce feasibility study with Singapore e-commerce retailers (focusing on fashion retailers) and discussed strategies for implementing reusable packaging. The findings of the report were shared through presentations and a highly interactive Q&A session.

Transforming E-commerce Packaging Pilot - Report Launch
The hybrid event was held on 11 April 2023. It was attended by more than 90 guests representing logistic service providers, e-commerce marketplace platforms, retailers and government agencies. The pilot's key findings were shared and followed by a panel discussion on the topic – Can e-commerce reusable packaging become a reality in Singapore? Watch the full recorded event here.
Are you a business that wants to learn more about Delivering on Circularity?